TitanUp Fitness:
THE MOST SUCCESSFUL FITNESS PROGRAM IN THE WORLD IS A SUSTAINABLE ONE
TitanUp Fitness:
FAT LOSS REVEALS THE FOUNDATION YOU BUILT WHILE YOU WEREN'T DIETING, BETTER GET LIFTING
TitanUp Mission:
TO RENDER OURSELVES OBSOLETE THROUGH FITNESS AND NUTRITION EDUCATION, ONLY TO HAVE YOU STAY BECAUSE YOU LOVE IT - ANDREW DECKER, OWNER
Now Open
TitanUp Fitness - Nocatee
Call (904) 945-8663 to get more info!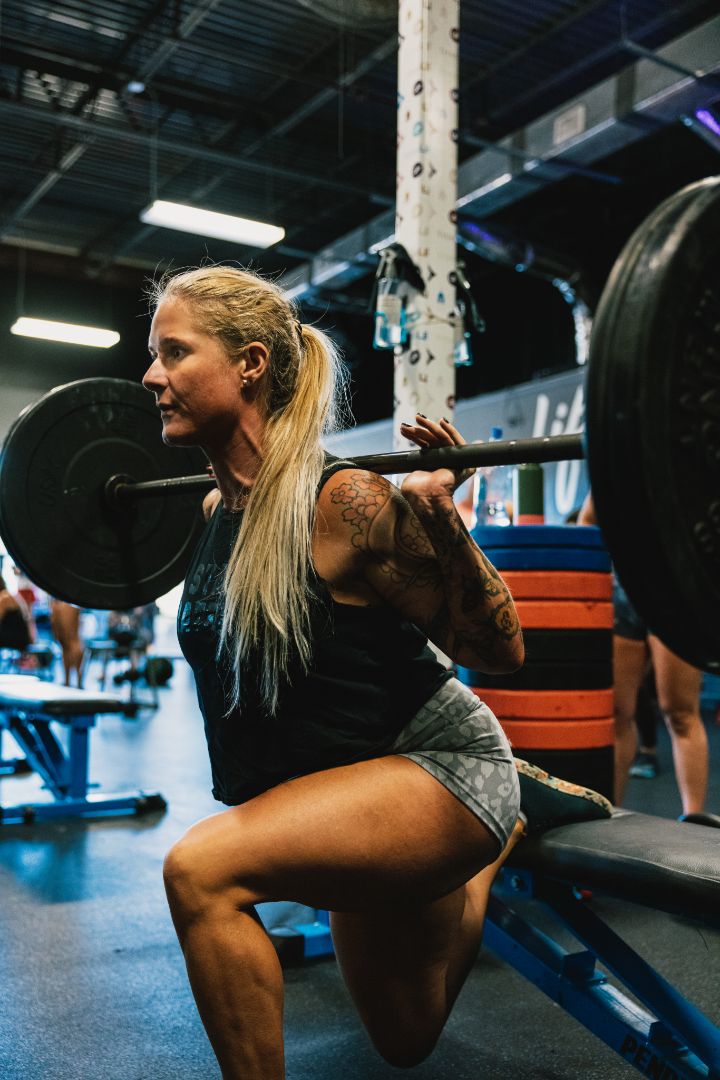 Get The Results You Deserve
Try TitanUp Fitness Today!
Get started today to receive

a free week

of group fitness classes.

TITANUP FITNESS VIDEO
All of your questions about TitanUp answered
A MUST watch! This video will explain EVERYTHING we do at TitanUp in 9 steps
TitanUp isn't selling you two a day workouts – Instead we will TEACH you how to get the most out of one workout.
We are not selling you a laundry list of complicated exercises – Instead we will TEACH you how to become the best at the few that count. 
TITAN UP FITNESS 13-WEEK PROGRAM™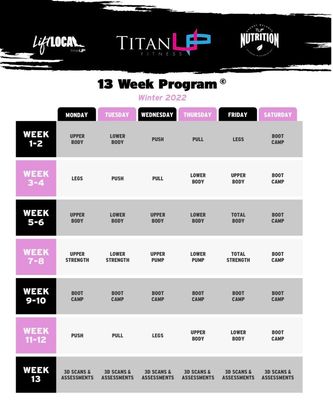 Here's an example
The magic behind our program is the FREQUENCY it creates. We want to target each muscle group two to three times in any given week! This way, the body maximizes its potential for progress without the risk of over-training. If we only hit each muscle group once per week, that's thirteen times in ninety one days. Our program allows up to thirty nine times per muscle group in ninety one days ( 13-Weeks ). Let's put that into relatable real-world terms. If you wanted to get better at free-throws in basketball, but only went to the foul line thirteen times in ninety one days, how good would your shooting percentage be? What if got to the foul line to practice thirty nine times? It's no different with trying to shape your body. At the end of every 13-Week Program™ clients have the ability to do body-scans, consults, and check-in with us on all of their progress and this allows us to build a custom plan every ninety one days as we strive to improve our minds, body, and health! Our program is open to all levels of experience, from beginner to expert. Sign up anytime during our 13-Week Programs™, what are you waiting for?
TUF MEMBER
Testimonials
Titan Up Fitness 13-Week Program ™ is designed to train your body to its Optimal Fitness as well as condition your Mind and Spirit. We motivate our clients to become the best versions of themselves through Nutrition, Exercise and Fitness Health guidance.
13-Week Program ™
OUR MEMBER RESULTS 
You know what's beautiful about what we do at TitanUp Fitness? Bodybuilding!
AWARDS
#1 GYM & GROUP FITNESS/EXERCISE STUDIO IN THE 904
BACK TO BACK 2020 & 2021 AWARDS FROM VOID
Every Friday
IS FLEX FRIDAY
WHAT ARE YOU WAITING FOR?
Join TitanUp Fitness Today!
Sign UP For The Current 13-Week Program ™ Call 904-945-8663 To Get Started!
You can start the 13-Week Program ™ anytime and on any date! There is no better time than now!

13-Week Program ™
We take our time & chisel away at specific areas of the body during the 13-Week Program ™
so you reach YOUR GOALS.

TRY IT TODAY
Get started today to receive a free week of group fitness classes.
"Your future self will thank you."

QUESTIONS?
Still have questions about TitanUp Fitness and the #1 Fitness Program in Jacksonville?
Send us a message to get more information.